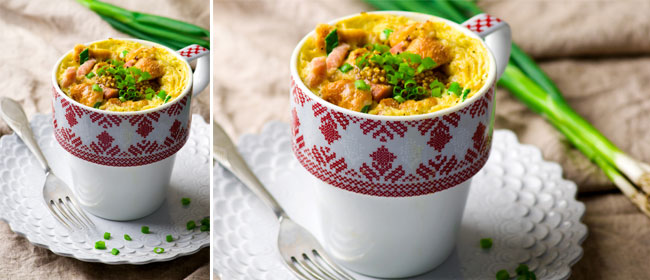 By Jane
Make Life Easy
Here's a super quick idea for lunch or breakfast – especially good if you're cooking for one.
You can add whatever you like to the mix: chopped tomatoes, corn kernels, peas, ham or leftover meat. I love it with smoked salmon and fresh herbs.
1-Minute Quiche in a Mug
1 large egg, lightly beaten
1 ½ tablespoons whole milk
1 teaspoon butter, melted
Pinch of salt and freshly ground black pepper
Pieces smoked salmon
⅛ cup fresh bread crumbs (I just tear the bread with my fingers)
1 tablespoon grated cheese
1 teaspoon chopped spring (green) onions
1 teaspoon chopped chives
In a microwave-safe mug, mix together the egg, milk, butter, salt and pepper until thoroughly combined.
Add smoked salmon, bread, cheese and spring onions and gently mix.
Place your mug in the microwave, and cook on high for 1 minute, or until the egg is just cooked.
Garnish with freshly cut chives and a dollop of wholegrain mustard.