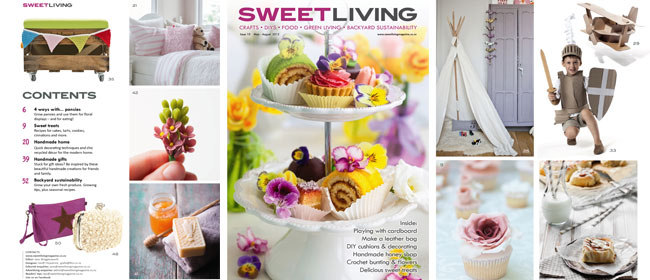 Read your free online issue of Sweet Living magazine, Issue 10, here. As usual, it's full of crafty DIYs, delicious baking, home decorating and hints on backyard sustainability.
Remember, you can zoom in on the text, plus view the thumbnails of each page, by clicking on the buttons below the magazine once you've opened it.
Click on the link below to check it out.  Happy reading!
PLEASE WAIT A MOMENT WHILE THE ISSUE LOADS BELOW.
If you're having trouble viewing on an iPad, click here.
In this issue:
4 ways with pansies:

 Grow your own pansies and use them for floral displays – and for eating!
Sweet treats: Cakes, cookies, tarts and cinnabons
The handmade home: Quick decorating tips, chic recycled decor, storage ideas, making cushions and soft toys
Playing with cardboard: Make a plane, rocket and knight's armour from cardboard
Handmade gifts: Make a leather bag, a crocheted fuchsia bookmark, clay flowers and sweet-smelling soaps
Backyard sustainability: Grow cabbages and kale for winter, plus seasonal recipes