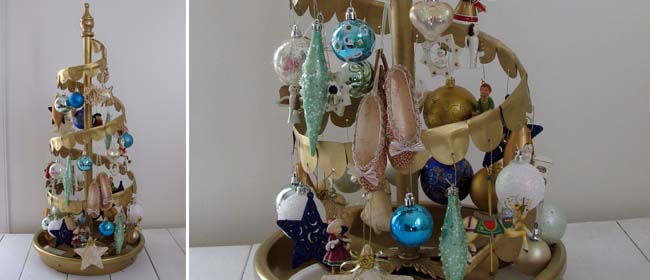 We made this vintage-style Christmas tree out of recycled bits and bobs. Spray paint it with gold or silver paint, then hang your decorations in style.
You will need:
Broom handle, cut 80cm (31 inches) long
Curtain finial
Top of 42cm-wide (16.5 inches) plastic pot (we cut the top 7cm off an old pot)
Scrap wood
Fireplace tool set base with thread (or improvise with something similar)
1 x double-ended screw that fits the thread of the fireplace tool set base
Screws
Strong adhesive
Craft glue
Thick wire (similar to clothesline wire)
Thick paper or cardboard
Hole punch
Gold spray paint
Saw
Electric drill
1. Cut the scrap wood to make a cross shape inside the plastic pot top. We cut one piece about 37cm (14.5 in) long and two pieces 16cm (6 in) long. Cut an indent in the centre of the long piece and indents on one end of each short piece, then slot the wood together to form a cross. Screw through the bottom to fix the cross shape.
2. Screw the ends of the cross to the plastic pot rim, as shown. Glue the fireplace tool set base to the centre of the wooden cross. Fix the broom handle to the fireplace tool set base with the double-ended screw. Fit the curtain finial to the top of the broom handle.
3. Cut several strips of cardboard 12cm (5 in) wide. We used cardboard squares 60cm x 60cm (24 in x 24 in), which we cut into strips. Fold the strips in half lengthwise.
4. Draw a line 1cm down from the fold then draw half circles, tracing around the base of a small bottle. Cut out the circles up to the line.
5. Drill a hole at the top of the broom handle, just below the curtain finial. Do not go all the way through the handle. Insert wire into the hole than form a spiral around the broom handle. At the bottom, drill a hole in one of the wooden cross bars and insert the end of the wire into it. Use a staple or drawing pin to ensure the wire is secure.
6. Wrap the cardboard strips around the wire and use craft glue to adhere the two sides together. Peg in place until dry.
7. Once dry, punch holes into each circle.
8. Spray paint the entire tree in gold – or your chosen colour. Then decorate!