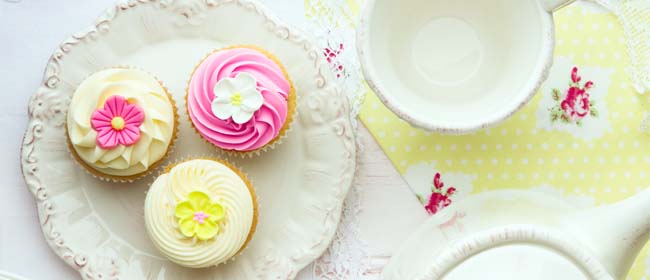 Cupcakes are always popular, and for good reason. Visually enticing and scrumptious to boot, they put a smile on most people's faces. Try out our vanilla cupcake recipe, then try your hand at some easy yet decorative icing techniques.
Vanilla Cupcakes 
Makes 12
Ingredients
125g (½ cup) butter
1 cup caster sugar
2 teaspoon vanilla essence
3 large eggs
2/3 cup buttermilk
1 ½ cups self-raising flour
To make:
1. Pre-heat oven to 180 degrees C (350 degrees F) and line a muffin tin with cupcake casings.
2. Cut butter into cubes and place in large bowl with the sugar and vanilla essence. Beat until creamy, then add eggs, one at a time, followed by buttermilk and flour.
3. Continue to mix on low speed until combined, then change to high speed for approximately 2 minutes.
4. Fill the casings to around 2/3 thirds full and bake in oven for 15-20 minutes, until the tops are golden brown and the cupcakes springs back when touched.
5. Place on cooling rack. Cupcakes will need to be cool before you can ice them.
Icing
500g (18oz) icing sugar
85g (3oz) butter
70ml (2.5 fl oz) full-cream milk
Few drops of food colouring of your choice
To make icing
1. Chop butter into small cubes and place in a large bowl along with icing sugar and milk.
2. Using an electric mixer, combine ingredients, starting on a low speed and gradually increasing the speed to high. Mix for 2 minutes.
3. Slowly add a few drops of food colouring until you achieve the desired shade and mix for a further minute. You can divide the mixture into different bowls and create different colours if  you wish.
Decorating
To decorate, choose a piping tip to achieve the effect you would like. For the pink cupcake with the white flower use a closed star tip (Wilton 2D). For the yellow cupcake with pink flower use an open star tip (Wilton 1M). For the yellow cupcake with the yellow flower we recommend using a French star tip (Wilton 4M).
Finish of with fondant flowers. You can buy a variety of ready-made fondant flowers and other decorations at most supermarkets, but if you'd like to make your own, buy ready-made fondant and shape into flowers.
Fondant can be coloured into any shade. Knead white fondant, slowly adding a few drops of food colouring. Continue to knead until the colour has mixed through thoroughly. To make flowers, roll out the fondant to desired thickness. Use a flower press (available at cake decorating stores) to punch out flower shapes. Add yellow or pink cachous at the centre of each flower to finish them off.
These flowers can be made well ahead of time and stored in an air tight container. They can be stored in this way for several months.