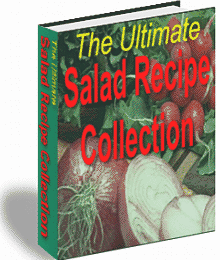 Stuck for the perfect salad recipe? We've got you covered.
This collection of salads and dressings, from the ebook The Ultimate Salad Recipe Collection, features more than 350 recipes, from basic potato salad and guacamole, to exotic meat salads to pasta and vegetable salads – and every imaginable salad in between.
Here's a sample of easy salads and dressings:
Black Bean & Rice Salad
2 cups cooked rice, cooled to room temperature
1 cup cooked black beans (from a can)
1 cup chopped fresh tomato
60g (2 ounces) Cheddar cheese (optional), grated
1 tablespoon snipped fresh parsley
¼ cup light Italian dressing
1 tablespoon fresh lime juice
Lettuce leaves
Combine rice, beans, tomato, cheese (if desired) and parsley in large bowl. Pour dressing and lime juice over rice mixture; toss. Serve on lettuce leaves.
Broccoli Sesame Salad
1 head broccoli
2 tablespoons olive oil
¼ cup rice wine vinegar
¼ cup soy sauce
2 tablespoons sesame oil
4 tablespoons sesame seeds, toasted
Wash broccoli, discarding leaves and toughest part of stem. Blanch entire head in boiling water for one minute. Rinse under cold water.
Break off florets and cut remaining stem (peeled, if desired) into 5cm (2 inch) pieces.
Preheat oven to 230deg C (450deg F). Pour olive oil onto a baking sheet. Spread broccoli pieces in one layer, turning to coat with olive oil. Roast for 5 minutes, turn broccoli pieces over, and continue roasting until broccoli begins to brown, about 5 minute more.
Whisk together soy sauce, vinegar and sesame oil. Stir in 3 tablespoons sesame seeds. When broccoli is done, transfer to a bowl and pour dressing over it, stirring gently to coat. Sprinkle with remaining tablespoon sesame seeds. Serve warm or at room temperature.
Orzo and Artichoke Salad with Prosciutto
¾ cup orzo
3 tablespoons olive oil
¼ cup chicken broth, canned or fresh
½ package frozen artichoke hearts (260g/9 oz pkg), thawed
1 tablespoon white wine vinegar
1 tablespoon fresh lemon juice
2 teaspoons Dijon mustard
2 tablespoons fresh minced basil
2 spring (green) onions, finely chopped
⅓ cup prosciutto, sliced, chopped
⅓ cup fresh grated parmesan
2 tablespoons fresh chopped parsley
Cook orzo in large saucepan of boiling salted water until al dente. Drain. Rinse under cold water and drain again.
Transfer orzo to large bowl. Add 1 tablespoon olive oil and toss to combine.
Bring chicken broth to simmer in heavy medium saucepan. Add artichokes and simmer 3 minutes. Drain. Mix artichokes into orzo.
Whisk vinegar, lemon juice and mustard in small bowl. Whisk in remaining 2 tablespoons oil. Stir in basil. Pour dressing over orzo.
Add all remaining ingredients and toss well. Season to taste with salt and pepper. Cover and refrigerate. (Can be prepared 1 day ahead.)
Serve chilled.
Coconut Cream Dressing
½ cup sour cream
3 tablespoons flaked coconut
1 tablespoon honey
1 tablespoon lime juice
In small bowl, combine all ingredients, mix well. Chill before serving. Refrigerate leftovers. Makes about ½ cup.
Pour over salad leaves.
Barbecue Cubes
85g (3 ounces) lemon Jell-O (or jelly crystals)  (1 Pkg)
¾ cup boiling water
225g (8 ounces) tomato sauce
1 ½ teaspoons vinegar
½ teaspoon salt
Pepper, dash of
1 tablespoon horseradish
Dissolve Jell-O in boiling water. Mix all other ingredients, and when Jell-O is at room temperature, add and mix well. Pour into oiled 20cm (8-inch) square pan.
Chill until firm. Cut into cubes and serve atop salad to go with your barbecue.
More than 350 recipes are included!
To download The Ultimate Salad Collection immediately, click the link below.