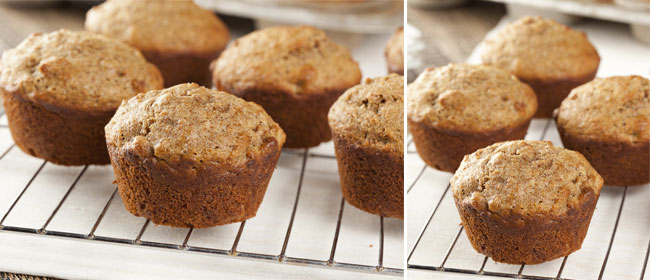 By Jane
Make Life Easy
I've been experimenting with a sugar-free muffin recipe – a snack, I guess, that visitors or kids can munch on instead of high-octane sugary garbage. AND something that's easy to whip up.
I hit upon these, which are ever-so-slightly chocolatey (cos I prefer them that way) but ever so tasty. I used sugar-free drinking chocolate by Avalanche and my own stevia powder to sweeten them. If you want yours a little more chocolatey, I'd suggest added some more cocoa powder.
You could also mix in some raisins if you wished – or anything else for that matter.
Makes 12 muffins
Ingredients
2 ¼ cups all-purpose flour, sifted
¼ cup sugar-free drinking chocolate (I used Avalanche)
1 tablespoon baking powder
1 teaspoon raw green stevia powder
125g butter, melted
2 eggs, lightly beaten
1 cup plain yoghurt
¼ cup milk
1. Preheat oven to 200deg C (400deg F). Lightly grease a muffin tray
2. Place the dry ingredients in a large mixing bowl and mix together.
3. Combine butter, eggs, yoghurt and milk in another bowl, then mix into the dry ingredients until just mixed.
4. Pour into muffin tray and bake for 15-20 minutes.