We bet these cute little burgers will be a big hit at the next birthday party or barbecue get-together. They're the perfect size for little ones who, let's face it, will probably have already stuffed themselves full of chips and other goodies. These mini burgers have been made using a star-shaped cookie cutter, but you could use a flower or other shape to coincide with your party theme.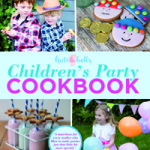 This recipe comes from the fabulous new book Children's Party Cookbook by Hatty Stead and Annabel Waley-Cohen. What we love about this book is that the authors clearly identify with our longing to create a special and memorable day for our little ones. Just like the wonderful memories we can recall from our youth. They show us how we can achieve this regardless of our budget. No need to break the bank to bring the brightest of smiles to your wee one's face. With 10 different party themes suitable for both boys and girls you will find plenty of inspiration for your next party.
Recipe extracted with permission from Children's Party Cookbook by Hatty Stead and Annabel Waley-Cohen. Photography by Jemma Watts. Published by Kyle Books and distributed in New Zealand by New Holland. $39.99.

Shooting Burger Planets
SERVES 8 
Mini shaped burgers are a perfect finger food for any party and this is an original spin on serving an old classic. For a full-on shooting star effect, you could cover flowerpots or vases with lots of foil, both inside and out, and stand the burger sticks upright in the pots.
You will need:
Vegetable or olive oil, for frying
½ onion, finely chopped
400g/14 oz lean beef mince
1 large egg, beaten
1 teaspoon dried mixed herbs
2 tablespoons tomato ketchup
8 burger buns, buttered
16 cherry tomatoes
8 thick slices of Red Leicester cheese
1. Preheat the oven to 130°C/266 degrees F/gas mark 1.
2. Heat a little oil in a large non-stick frying pan and gently fry the onion over a medium heat until softened.
3. Combine the onion with the mince, egg, herbs and tomato ketchup in a mixing bowl and blend together using your fingers.
4. Split the mixture into eight equal parts and roll each portion between your hands to form small burgers.
5. Add a little oil to the frying pan and fry the burgers for 2 minutes on each side, or until cooked through.
6. Put the burgers on a baking tray, cover in foil and put in the oven to keep warm.
7. Using a star-shaped cookie cutter, cut out stars from the burger buns.
8. Remove the burgers from the oven. Thread the ingredients onto eight kebab skewers. We like the following order of ingredients but feel free to mix it up – cherry tomato, top of the burger roll, burger patty, cheese, bottom of the burger roll, cherry tomato.
9. Serve the burger sticks standing up in a flowerpot or vase.
** BOOK GIVEAWAY **
We have 1 copy of Children's Party Cookbook to give away.
To ENTER THE DRAW TO WIN A COPY simply post a comment below. Anything will do. You can just say hello, if you like. Or you could share your best cooking tip.
COMPETITION CLOSES ON 14 NOVEMBER, 2013 at 11.59PM.