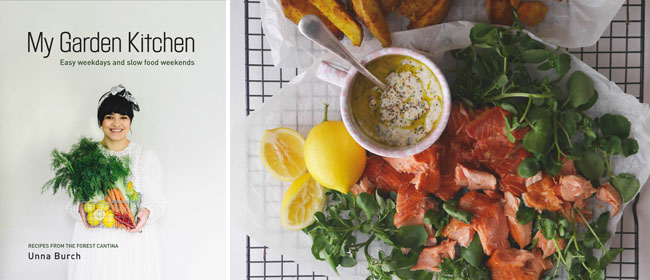 Unna Burch's new book, My Garden Kitchen, features more than 100 delicious meals, including this quick and easy dish.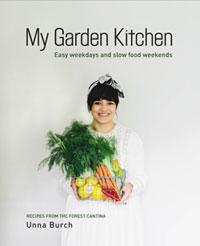 Unna's garden is a place where hens run free, beehives deliver honey and vegetables grow in abundance. These sustainable ingredients all play a part in Unna and her family's sustainable lifestyle. In My Garden Kitchen, Unna shares a collection of tasty dishes, from breakfast to brunch to dinner plus sides, desserts, drinks and preserves. The food is delicious and suitable for both family dinners and for entertaining.
A lovely book by a Kiwi cook.
Extracted with permission from My Garden Kitchen: Easy weekdays and slow food weekends recipes. Food photography by Unna Burch, lifestyle photography by Benjamin and Elise. Published by New Holland, RRP $45.00.

Posh Fish 'n' Chips
This is such an easy fuss-free weekday meal. The fish I used is already cooked, a wood smoked salmon – so all you need to do is make the dressing and wedges. If you're not a huge fan of salmon and would like to use a different fish, go ahead. My inspiration for this dish was to use salmon in a convenient way, with a dressing that uses all the flavours of a tartar sauce but with a twist. For the spiced potato wedges, I have seen chefs use curry powder in the batter for fish, so I decided to use that same flavour but on the wedges instead – and it worked so well. The wedges would also go really well with burgers!
Serves: 4
Time: A little bit of effort
FOR THE WEDGES
8 medium floury potatoes
½ cup flour
1 dry chicken stock cube
1 tablespoon hot curry powder
A pinch cayenne pepper – more if you want it hot
¼ cup olive oil
FOR THE SALMON
400g (14oz) fillet natural wood-smoked salmon
125g (4.7oz) bag watercress
Lemon wedges
Preserved lemon yoghurt dressing (see recipe below)
Preheat oven to 200°C (390°F) on fan bake. Line a large tray with baking paper and set aside.
Bring a large pot of water to the boil and season with salt once boiling. Meanwhile, scrub the potatoes well (I use a wire brush), leaving the skins on. Cut into quarters and each quarter into half again to make wedge shapes. Once the water is boiling, put the wedges into the water, cover with a lid and boil for 5 minutes.
While the potatoes are cooking, in a large bowl combine the flour, crumble over the chicken stock cube, the garlic powder, ½ teaspoon each of salt and pepper and mix well.
After 5 minutes, drain the potatoes and then shake gently to fluff the potatoes up. By fluffing them you will rough up the edges and get nice crispy bits. Add to the mixing bowl with flour and spices and toss well to combine. Put the wedges on the prepared tray, discarding any leftover flour. Drizzle with olive oil and bake for 30 minutes or until golden and crunchy.
To serve: Watercress wilts really quickly, within minutes, so plate up just before serving. Arrange the watercress on a platter and flake the salmon over the top in chunks. Serve the preserved lemon dressing in a mug on the side. Serve with the spiced wedges and let everyone help themselves.
Preserved Lemon Yoghurt Dressing
Preserved lemons are so easy to make but if you don't have them, then the zest from 1 lemon would work fine. This dressing goes so well with any fish and also makes a great dressing for potato salad!
Time: Easy as
½ cup yoghurt
½ cup mayonnaise
3 tablespoons gherkin juice or vinegar
2 teaspoons Dijon mustard
1 tablespoon capers, finely chopped
½ preserved lemon, yellow rind only, finely chopped
Small bunch parsley, finely chopped
½ teaspoon caster sugar
Olive oil to serve
Shake the yoghurt, mayonnaise, gherkin juice, mustard, capers, preserved lemon, parsley and caster sugar in a jar. Taste and season with salt and pepper. Pour into a jug or mug to serve in. Drizzle over a little olive oil and season with a little extra pepper.