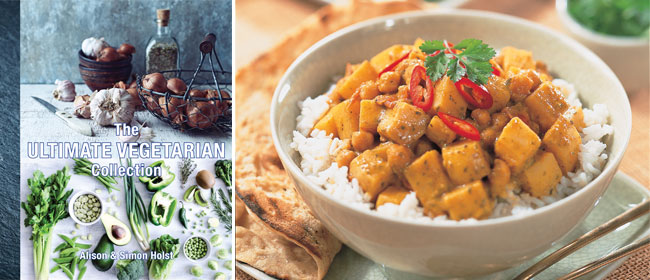 This delicious vegetarian meal comes from The Ultimate Vegetarian Collection by Alison & Simon Holst.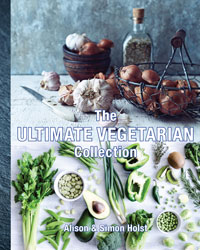 With meals for breakfast, lunch and dinner, and those in between, this new book from Alison and Simon Holst is an inspiring collection of more than 400 recipes. Whether you are eating indoors or out, entertaining friends or creating a special dish for two people, this book has it covered.
The Ultimate Vegetarian Collection contains the Holsts' best recipes from their books Meals Without Meat (which was reprinted more than 10 times), Meals Without Red Meat and Very Easy Vegetarian, as well as recipes from their magazine and newspaper columns. It sticks to the same formula as Meals Without Meat – the recipes are reasonably simple, affordable and use only ingredients you will largely be able to find at your local supermarket.
A must for vegetarians and non-vegetarians alike.
Recipe extracted with permission from The Ultimate Vegetarian Collection by Alison Holst and Simon Holst, published by New Holland, $49.99.

Peppery Chickpea & Potato Curry
Serves 2–3
Black pepper gives this easy curry an interesting 'kick', quite different from chilli and not too hot. Use a mild curry powder with this recipe: it gives flavor without masking the pepper effect.
1 teaspoon black peppercorns
2 large cloves garlic, peeled
1 whole coriander (cilantro) plant (root and all), well washed
2 tablespoons vegetable oil
1 tablespoon curry powder
2 medium potatoes, scrubbed and diced
300g (11oz) can chickpeas, rinsed and drained
2 medium tomatoes, diced
190ml (6.5fl oz) coconut cream
125ml (4fl oz) hot water
1 tablespoon soy sauce
½ teaspoon sugar
salt, to taste
1–2 tablespoons coriander (cilantro), chopped
Measure the peppercorns into a blender or mortar and pestle. Add the garlic and the whole coriander plant and blend or pound to a paste. Add the oil and mix well.
Transfer the paste to a medium non-stick frying pan and cook over a medium heat, stirring frequently, for 2–3 minutes or until fragrant. Stir in the curry powder and cook for 1–2 minutes longer.
Add the potatoes, chickpeas and the tomatoes. Stir so that the potatoes are coated with the spice mixture, then add the coconut cream, hot water, soy sauce and sugar. Bring to the boil, then reduce the heat to a gentle simmer and cook, stirring occasionally, for 10–15 minutes or until the potato cubes are cooked through.
Season to taste with salt, garnish with the chopped coriander and serve. Wilted cucumber salad and naan or roti make great accompaniments.
More from The Ultimate Vegetarian Collection: