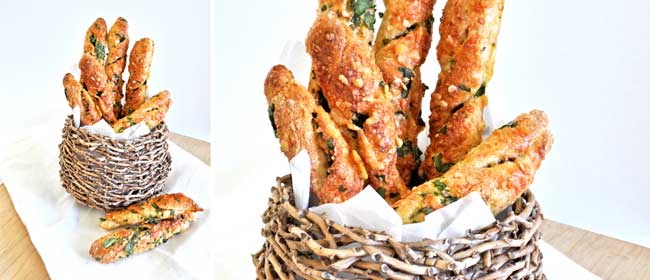 Try these delicious snacks from Cassandra Fenaughty's new book, Wholesome Food for Busy Parents. Your guests will love them!
Recipe extracted with permission from Wholesome Food for Busy Parents by Cassandra Fenaughty, published by New Holland, $35.00.
Parmesan and Kale Twists
Makes 10 twists
Serve freshly baked for parties or pre-dinner snacks.
100 g (3 1/3 oz) wholemeal self-raising flour
120 g (4 oz) Greek style yogurt
4 heaped tablespoons fresh kale leaves, finely chopped
4 heaped tablespoons parmesan cheese, grated
1 egg, whisked well
Extra wholemeal flour for rolling
Preheat oven to 180degC/160deg C fan forced (350deg F/gas 4) and line a large baking tray with baking paper.
Mix flour and yogurt in a bowl to form a dough.
Turn out onto a lightly floured bench and divide into 10 portions.
Roll each portion out into a sausage shape approximately 20 cm (8 in) long and 1 cm (1/2 in) in diameter.
Place lengths of dough into pairs, sprinkling between the pairs with kale and cheese evenly.
Gently twist pairs of dough together, incorporating cheese and kale, gently rolling on bench after twisting to coat dough with any kale and cheese that may be left on the bench.
Cut each twist in half to make a total of 10 twists.
Place twists onto baking tray and using a pastry brush, coat both sides with egg wash.
Bake for 15–20 minutes or until well browned.