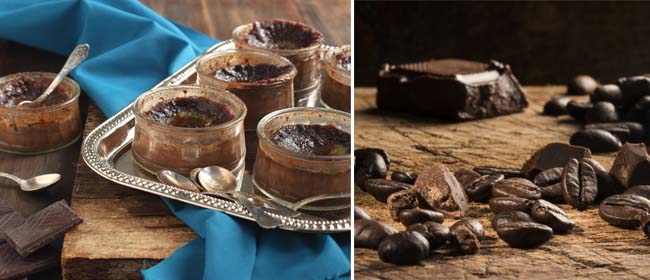 This scrumptious mocha fudge pudding is real 'comfort food', and delicious served still warm. You can make it in a single oven-proof dish or individual dishes, to suit. The pudding separates, so you have a cake on top and a sauce underneath. Divine! You can omit the instant coffee if you wish.
This recipe is sufficient for 6 people, though 4 of us happily devoured the lot.
Mocha fudge pudding
Ingredients:
2 cups plain/all purpose flour
2 teaspoons baking powder
2 tablespoons cocoa
½ teaspoon salt
½ cup sugar
1 cup chopped walnuts (optional)
1 cup milk
50 g (1.75 oz) butter
1 teaspoon vanilla essence
Sauce:
4 tablespoons cocoa
4 teaspoons instant coffee
1 ½ cups brown sugar
2 cups boiling water
To make:
1. Preheat oven to 180 degrees C (350 degrees F).
2. Grease an oven-proof dish or large ramekins.
3. Sift flour, baking powder and cocoa in large bowl then mix in salt, sugar and nuts (if using).
4. In a saucepan gently heat milk and melt butter in milk.
5. Let milk and butter cool slightly then add the vanilla essence.
6. Add milk mixture to dry ingredients and spread into prepared dish, or dishes.
7. Mix cocoa, instant coffee and sugar together and sprinkle this over the batter.
8. Pour boiling water on top and bake immediately for 45 minutes. If using individual ramekins reduce the time to 30 minutes.