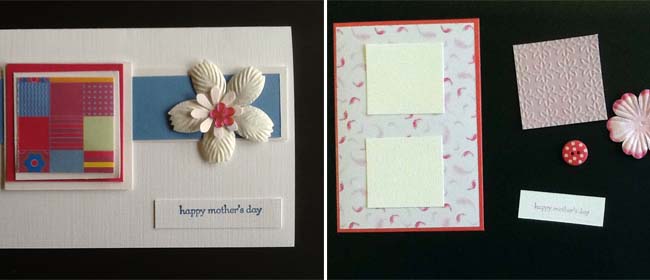 It's not too late to make Mum a card for Mother's Day. Card creator Anita Jane shows us how to make two simple but gorgeous cards for the special lady in your life. Follow the step-by-step instructions below or click on the video link at the bottom of the page to watch how it's done.
White Flower Card
Materials:
White, blue, and pink card
Patterned paper (tip: recycled wrapping paper works really well for this)
Flowers embellishments
Glue
Stamp (ours says 'Happy Mother's Day')
Ink
Self-adhesive foam dots
Tools:
Cutting/scoring tool
Instructions:
1. Take a piece of white card 21cm x 15cm. Score at 10.5cm and fold to create your blank horizontal base card.
2. Cut another piece of white card 14.5cm x 3.5cm. Attach to the base card 2cm from the top. Layer a piece of blue card 14cm x 3cm on top of that.
3. Cut a 6cm x 6cm white square, a 5.5cm x 5.5cm pink square, a 5cm x 5cm white square and a 4.5cm x 4.5cm pattern paper square. Glue squares on top of one another, with the smallest at the top. Attach foam dots to base of largest square. Attach the square layers on the left of base card on top of the blue strip.
4. Glue flower embellishments together and attach to the right of base card on top of blue strip.
5. Stamp sentiment at bottom of card on right as shown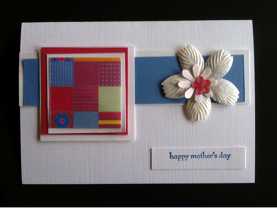 Pink Flower Card
Materials:
Pink, white, plain or embossed pink coloured card (or your choice of colour)
Patterned paper
Flower embellishments
Button
Glue
Stamp/ink
Self-adhesive foam dots
Tools:
Cutting/scoring tool
1. Take a piece of pink card 21cm x 15cm and score at 10.5cm. Fold to create your blank vertical base card. Cut a piece of patterned paper 14.5cm x 10cm. Attach to the base card.
2. Cut two white squares at 5.5cm x 5.5cm and attach to patterned paper by placing one square at the top, leaving a margin of approximately 5cm from top, and the other at the bottom, leaving a 5cm margin from the bottom.
3. Cut a coloured 6cm x 6cm square of either plain or embossed paper to match the patterned paper you have used. Attach this in the middle of the card, diamond style. Take the flower embellishment and, using a foam dot, attach this to the card in the centre of the 6cm x 6cm square.
4. Finally, attach the button to the centre of the flower embellishment and add your stamped sentiment at the bottom of card on the right, as shown.
Happy crafting!
Watch the video here: