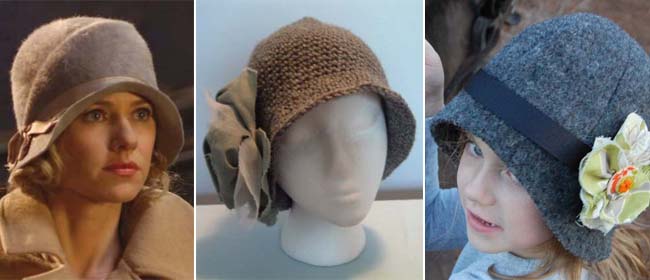 We adore Naomi Watts' cloche hat in the King Kong movie (that's her on the left). But where can you find a pattern like that? We searched the internet and found similar versions, some knitted, some crocheted, some sewn and some felted, although nothing quite like this. Check out these free tutorials.
Crocheted cloche
We found this lovely crocheted hat from Opera in Jeans. Titled Ridiculously Easy Cloche, the free pattern provides two options: a single brim (as pictured) or a double brim.
It might be ridiculously easy, but we think it's ridiculously gorgeous too.
See the pattern here.
Have you crocheted your own cloche hat? Let us know. Post a comment below. If it features on your own blog or website, post a link too.
Felted cloche
This felted cloche was designed and created by f.pea, who says, "This hat is knitted with a plied 100% merino wool for a very smooth, soft finish and uniform felting. Substitute other yarns with care."
The hat is knitted in one giant size and felted until it fits the wearer snugly.
There are instructions for both the knitting and the felting.
Find the free pattern here.
Sewn cloche
The hat shown here is made from a recycled wool blazer, but there's another version fashioned out of a pair of wool pants.
The fabric is felted first then cut and sewn.
There is also a tutorial for the lovely fabric flower. Head to My Magic Mom for the instructions.