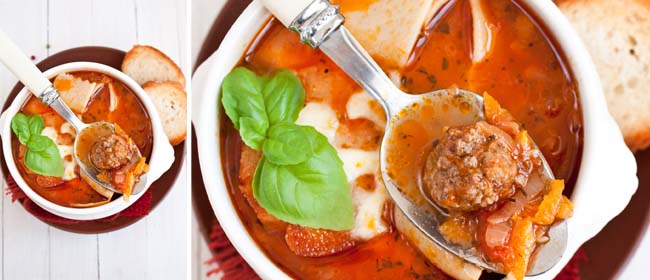 Love lasagne? Try our hearty soup for a heart-warming meal. Experiment with different herbs, dried or fresh, and your choice of vegetables.
Ingredients
8-10 lasagne noodles, broken into pieces
2 tablespoons extra-virgin olive oil
1 medium-sized onion, chopped
1 large orange capsicum (bell pepper), chopped
250g (8 oz, ½ lb) ground beef
2 large cloves garlic, chopped
1 tablespoon fresh oregano, chopped
4 cups chicken stock
410g (13 oz) tin chopped tomatoes
2 tablespoons tomato paste
1/3 cup grated parmesan cheese
Cream for serving
Basil and extra parmesan for serving
Method
Cook the noodles in a saucepan of salted water. Drain and set aside.
Heat olive oil in a large saucepan, add the onion and capsicum and cook until softened, about 2 minutes. Add the ground beef, garlic and oregano and, with a wooden spoon, break the beef into large chunks – like meatballs. Cook, stirring, until the beef is browned.
Add the chicken stock, tomatoes, tomato paste and 1 cup water. Bring to the boil. Reduce heat and simmer for 10 minutes.
Stir in the noodles and parmesan and cook for another 2 minutes.
Pour soup into bowls. Pour a little cream into each bowl and sprinkle with chopped basil and parmesan.