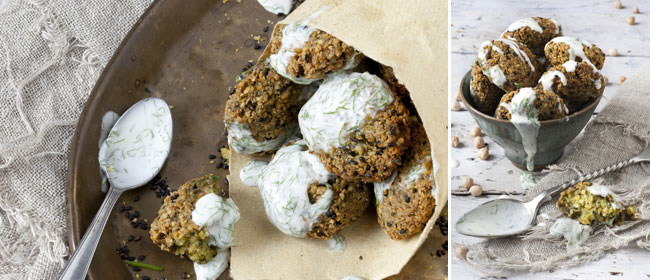 Serve these chickpea morsels with pita bread or salad for a delicious Middle Eastern fare.
Great for meatless Mondays, these falafels are quick and easy to make. Serve in pita bread pockets with lettuce, tomato, onion, cucumber and yoghurt sauce.
Makes 16.
Ingredients
250g (9 oz) dried chickpeas
1 small onion, roughly chopped
2 cloves garlic, roughly chopped
1 tablespoon cumin seeds
¼ cup (packed) fresh coriander leaves
1 teaspoon salt
½ teaspoon bicarbonate of soda
4-6 tablespoons flour
2 tablespoons black sesame seeds (optional)
Oil for frying
1. Place the chickpeas in a saucepan and cover with twice the amount of water. Bring to the boil and boil for 2 minutes. Turn off the heat and leave to soak for 2 hours.
2. Drain the chickpeas and tip into a food processor with the onion, garlic, cumin seeds, coriander, salt and bicarbonate of soda. Process until mixture is finely ground.
3. Add 4 tablespoons of flour and process until the flour is mixed in. At this stage the chickpea mixture should hold together. If not, add the remaining flour. Mix in the sesame seeds if using.
4. Form into balls then shallow-fry until crisp and brown all over. Drain on paper towels before serving.
Yoghurt sauce
4 tablespoons unsweetened natural yoghurt
4 tablespoons mayonnaise
2 tablespoons lemon juice
1-2 tablespoons finely chopped fennel or coriander leaves
Mix all ingredients together and serve.