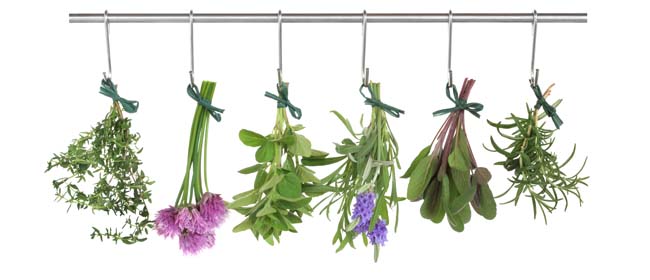 We know that certain wines match certain foods better than others. The same can be said for herbs and vegetables.
A number of herbs and vegetables have a strong affinity for one another. Basil goes perfectly with tomatoes, for example, and lemon thyme is delicious with mushrooms. Herbs are also an important part of vegetarian cooking, as they add depth of flavour to dishes and they have great nutritional value.
Basil, for instance, is an excellent source of beta-carotene, lutein and zeaxanthin (which helps protect from age-related macular disease), Vitamin A and Vitamin K, and it also provides us with important minerals such as potassium, copper and magnesium.
Oregano is packed with minerals such as potassium, calcium, manganese, iron and magnesium and in addition it is a great source of Vitamin A, Vitamin C and Vitamin K.
The following is a list, devised by The Herb Farm (A YMCA Community Enterprise Society Ltd), of a few vegetables and herbs that complement one another well.
Which herbs with which veggies?

| Veggie | Herb | Tips and Techniques |
| --- | --- | --- |
| Beans | Savory, oregano, parsley | Chop your chosen herb finely, add to butter and mix in with beans prior to serving. Broad beans taste great with a white savory herb sauce |
| Beetroot | Dill, marjoram, lovage | Mix herb together with sour cream and then stir in with cooked beetroot |
| Broccoli | Savory, oregano, basil | Add one or more of the herbs to a white sauce and pour over the broccoli |
| Cabbage | Dill, lovage, sorrel, marjoram | Quick fry cabbage with a little onion and one herb, or stuff cabbage leaves with rice using all the herbs. Use herbs liberally in coleslaw |
| Carrots | Parsley, lovage, savory | As with beans, add one of the herbs to butter and stir through before serving, or serve with a white herb sauce |
| Cauliflower | Sorrel, savory, chervil, lemon balm, marjoram | To accompany cauliflower add one of the herbs to a cheese sauce |
| Celery | Lovage, oregano, savory, salad burnet | Make a white sauce using one or more of the herbs |
| Courgettes | Dill, chives, basil, marjoram | Serve with marjoram white sauce or mix herbs through prior to serving |
| Florence fennel | Dill, savory, basil | Add to cooked fennel bulbs prior to serving |
| Marrow | Lemon, balm, marjoram, mint, tarragon | Use a generous amount of herbs in either a mince or rice stuffing. Also great added to white sauce |
| Mushrooms | Dill, garlic, lemon thyme | Fry in herb butter or serve with a herb sour cream |
| Onions | Sage, parsley | Make a white sage and parsley sauce and add to cooked onions. Great addition to poultry too |
| Potatoes | Mint, parsley, chives, savory, oregano, chervil | Serve baked potatoes with a spoonful of sour cream or butter mixed with herbs |
| Swedes and Parsnips | Lovage, parsley, savory, oregano | Before serving, mix in with herb butter |
| Tomatoes | Basil, dill, tarragon, chervil, chives | Add one or more herbs to sliced tomatoes or make a stuffing with breadcrumbs and herbs |
| | | |