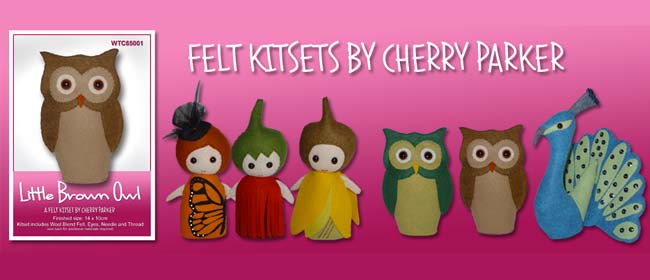 Aren't these kitsets by Cherry Parker for CraftCo gorgeous? We have 6 kits to give away.
Cherry Parker is well known for her cross stitch designs but now she has turned her hand to charming felt kits. See the entire range here.
The kits contain high quality wool/blend and bamboo/blend felts, the pattern and instructions and needle, thread and eyes. Additional materials for filling and  finishing are printed on the back of the packet so you can leave your store with everything you need.

** GIVEAWAY ** 
We have 6 kitsets to give away – 1 kit per person (that's 6 chances to win).
To ENTER THE DRAW TO WIN simply post a comment below. Tell us who you would give a kitset to – or maybe you'd like to keep it for yourself!
The kitsets we have to give away are: Little Brown Owl, Little Green Owl, Kowhai Fairy, Pohutukawa Fairy, Monarch Fairy and Pretty Peacock.
COMPETITION CLOSES ON 25 JUNE, 2014 at 12 NOON (NZ time).