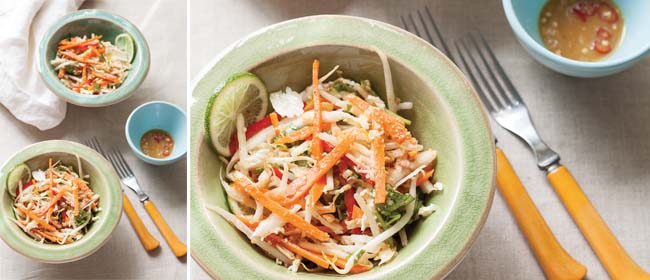 Michelle Tchea creates an all-star, easy-to-make salad that's brimming with flavour. Serve as a side or main.
Crunchy peanut salad
Serves 2–3
Carrot 1, julienned
Bean sprouts a handful, tails removed
Chinese cabbage 2 handfuls, shredded
Coriander leaves a small handful, coarsely chopped
Lime slices for garnishing
Dressing
Peanut sauce 1 Tbsp
Roasted peanuts 2 Tbsp, crushed + more for tossing
Garlic 3 cloves, peeled
Bird's eye chillies 2
Sugar 1 tsp
Fish sauce 1 tsp
Lime juice from 2 limes + more if needed
1. Mix carrot, bean sprouts and Chinese cabbage together.
2. For the dressing, pound all ingredients with a mortar and pestle. Mix well and drizzle over the vegetables. Add more lime juice if too dry, or a splash of hot water to loosen the salad. Toss with more roasted peanuts.
3. Garnish with coriander and lime slices. Serve.
More recipes from Michelle:
Beetroot Cake with Chocolate Ganache
Visit Michelle's blog The B*Critic here.