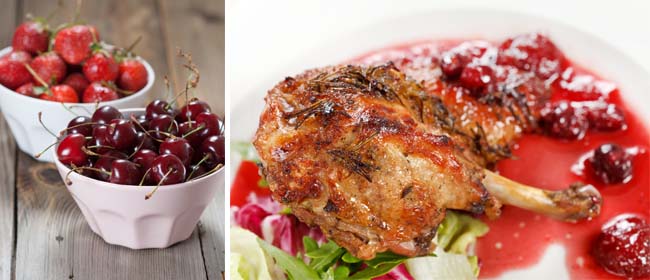 Looking for an inspiring way to use up all those homegrown berries? Here's an alternative to the typical dessert and fruit salad recipes. Try this cherry and peppered strawberry sauce, a great accompaniment to chicken, duck or lamb.
Rosemary Chicken
Ingredients:
1.8 kg (64 oz) chicken legs, washed & dried
2 tablespoons olive oil
½ cup softened butter
1 tablespoon fresh rosemary
4 cloves garlic, chopped finely
Rind and juice of 2 large lemons
Salt and pepper
To make:
1. Preheat oven to 220 degrees C or 420 degrees F.
2. In a bowl, mix together olive oil, butter, rosemary, garlic and lemon rind.
3. Season chicken with salt and pepper. Brush the butter mixture all over the chicken legs. Squeeze over the lemon juice.
4. Place chicken legs in roasting pan and cook for half an hour. Baste and turn the chicken legs. Cook for further 15 minutes or until skin is golden brown and chicken is cooked through.
5. Let stand for a few minutes then serve on top of salad greens along with cherry and peppered strawberry sauce.
Cherry and Peppered Strawberry Sauce
Ingredients:
1 ½ cups of strawberries, hulled and halved
½ teaspoon ground white pepper
½ teaspoon cracked black pepper
¼ cup olive oil
1 ½ cups of cherries, halved and pits removed
2 tablespoons tamarillo vinegar (can substitute with balsamic)
1 tablespoon orange rind
2 tablespoons orange juice
2 spring onions (aka scallions or green shallots), finely chopped
To make:
1. Place strawberries, both white and black peppers and 1 tablespoon of olive oil in a bowl and mix, ensuring all the strawberries are well coated.
2. Quickly cook strawberries in a very hot frying pan or on a hot grill plate for around 30 seconds. Transfer to a bowl and allow to cool.
3. In a separate bowl, add the tamarillo vinegar, rest of olive oil, orange rind and juice and spring onions and mix. Add the cherries, then the cooled strawberries. Serve with rosemary chicken.