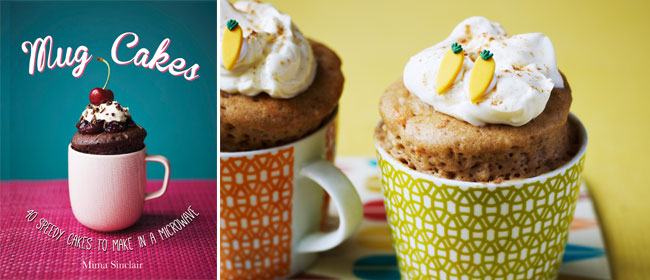 The latest craze on the baking scene? A cake in a mug. Mima Sinclair, in her book Mug Cakes, shows us how to whip one up in less than 10 minutes.
It's just like a cake, only it's made in a mug for a delicious single serve. Mima Sinclair's new book, Mug Cakes, reflects the latest trend that's taking the world by storm. Mug cakes are fun quick fixes that you can enjoy as soon as you decide you want one.
Mima covers all the classics: carrot cake, coffee and walnut cake, triple chocolate cake, gingerbread, chocolate brownie, blueberry muffin (and more); plus all the extravagant cakes: black forest cake, strawberries and cream Victoria sponge, lemon and poppy seed drizzle, lamingtons, sticky toffee, rocky road (and more); and even some fun themed cakes: Guinness cake, Baileys on the rocks, pina colada (and many more). There is also a gluten-free chocolate cake and an egg-free chocolate cake.
Treat yourself or a friend. This fabulous book will have you salivating.
Extracted with permission from Mug Cakes: 40 speedy cakes to make in a microwave by Mima Sinclair, with photography by Tara Fisher. Published by Kyle Books and distributed in New Zealand by New Holland, $24.99.

Carrot cake
Carrot cake as it should be, with pecans, raisins and a delicious cream cheese topping.
Ingredients
2 tablespoons vegetable oil
1 medium egg
1 tablespoon semi-skimmed milk
1 teaspoon vanilla extract
3 tablespoons light brown sugar
4 tablespoons self-raising flour
pinch of salt
¼ teaspoon ground mixed spice
¼ teaspoon ground cinnamon
2 tablespoons grated carrot
½ tablespoon pecans, roughly chopped
½ tablespoon raisins
To decorate
2 tablespoons cream cheese
1 tablespoon icing sugar
1 teaspoon lemon juice
¼ teaspoon ground cinnamon
1–2 edible sugar carrots
Method
1. Place the oil, egg, milk, vanilla and sugar in a 350ml mug and beat with a fork until well combined.
2. Add the flour, salt, mixed spice and cinnamon and beat again until smooth, then fold through the carrot, pecans and raisins. Cook in the microwave for 2 minutes 50 seconds @ 600W, 2 minutes 30 seconds @ 800W or 2 minutes 10 seconds @ 1000W. Leave to cool.
3. Meanwhile, make the frosting. Beat together the cream cheese, icing sugar and lemon juice until light and fluffy. Roughly spoon the icing over the cooled sponge. Sprinkle over the cinnamon and top with a sugar carrot or two.
Tip: You can easily make your own carrot toppers with a little marzipan and food colouring.