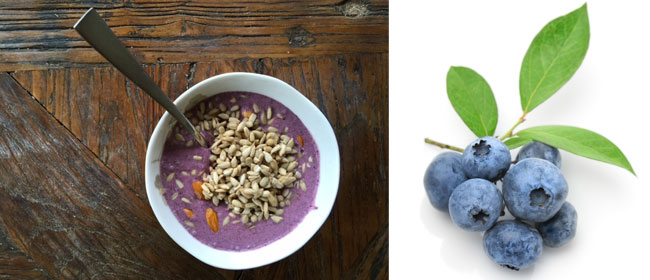 Perfect for summer, Fi Jamieson-Folland's heavenly breakfast treat will give you a smooth, berry-boost.
This delicious and healthy fare provides a valuable energy supply from the right fats (non-hydrogenated, which can help our immune, cardiovascular and hormonal systems, plus our metabolism and skin, and even promote weight loss), low glycaemic (slow-release) nutrients, fibre (can help us to absorb more from our food as it travels slowly through our bodies), vitamins (including K – to help with the health of our red blood cells, and C – for childhood growth, cell protection) and minerals (including manganese and copper – can protect our cells and help with our memory).
When? Ideal for breakfast – neat or over your muesli or your gRAWnola (keep your eyes peeled for the gRAWnola recipe!)
Berry Bliss
Makes enough for 2 glasses.
2 cups plain coconut yoghurt
½ cup blueberries (can be frozen)
3 medjool dates – pre-soaked for 3 hours in filtered water, de-stoned and drained just before use (set the drained-off fluid aside)
Pinch of ground sea salt
Optional extra (for a thicker mix) – ¼ cup cashews plus ¼ cup sunflower seeds – pre-soaked overnight in filtered water, rinsed and drained just before use
Place all your ingredients, including half of the dates-water, into your blender and process until creamy smooth. If you like, slowly add the rest of the dates-water to find the thickness you prefer.
Keep in the fridge until you're ready to serve.
Top tips for your perfect Berry Bliss
Looks stunning with a few pre-soaked sunflower seeds, blueberries or peppermint leaves on top. Or sprinkle with bee pollen, or even grated raw chocolate.
Works well with orange segments (peeled) instead of blueberries.
Include organic where possible. If that's not possible, use extra soaking time if you can, and rinse well.
Pop any leftovers (really?) in a sealed BPA-free container in the fridge and finish within 2 days.
Lip-smacking good!
Bonus take away
This is the perfect topping for Healthy Heavenly Bites – email me direct if you'd like your copy, at fi@fijamiesonfolland.com
Do make sure you put 'Healthy Heavenly Bites – SL' as your email subject line.
Fi Jamieson-Folland D.O, is a Lifestyle Consultant, with more than 20 years experience in Europe, Asia and New Zealand as a qualified osteopath, certified raw, vegan, gluten-free chef, educator, writer and health coach. She lives in Auckland with her husband, Chris, relishing an outdoor lifestyle and time with family and friends. Visit Fi's website Convertibelle.