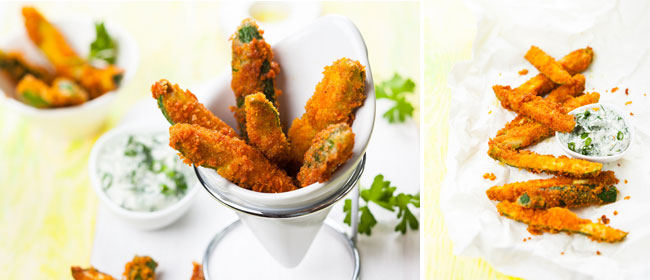 Use up some of your excess zucchini harvest by making these delicious, crispy fries.
If you grow your own zucchini, you'll likely be bombarded with excess produce during the height of summer. Try these healthy fries for a tasty snack or side dish.
Makes 4 side servings.
Ingredients
3 zucchini
1 egg
¼ cup milk
½ cup flour
Salt and pepper
1 cup panko breadcrumbs
½ cup grated parmesan cheese
1. Preheat oven to 220 deg C (425 deg F).
2. Cut ends off zucchini and cut into 7-8cm (3 inch) strips, about 6mm (¼ inch) thick and 1.5- 2cm (5/8 to ¾ inch) wide.
3. Lightly beat egg in small bowl, then add milk and combine.
4. In another bowl, add flour and seasoning to taste.
5. In a third bowl, combine panko and parmesan cheese, and add seasoning.
6. Dip the zucchini pieces into the flour mix, shaking off the excess, then coat in the egg mixture, then roll in the panko mix.
7. Place on a greased oven tray or wire rack, and bake for 20-25 minutes until crisp and golden.
8. Make a dip with equal parts mayonnaise and sour cream, a drop of lemon juice and freshly chopped herbs.