Baked fudge. Mmm. Just saying it makes our mouths water. Teamed with rum sauce, this dish is sure to get your taste buds going.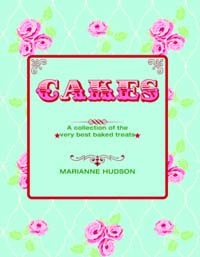 This delicious recipe features in Marianne Hudson's new book Cakes: A collection of the very best baked treats, and we have the recipe for you below. It is but one of the many wonderful recipes in a book that boasts close to 200, from cheesecakes to sponges, and slices to soufflés – something to suit every occasion.
The book is suitable for all skill levels with a 'baking advice' section at the very start of the book that gives you helpful hints and trusty tricks to send you on your way. A photo accompanies every recipe which is always inspirational and many of the recipes are created using standard pantry-stocked items – so you won't need to make a special trip to the supermarket when the desire to whip up a treat hits you.
Recipe extracted with permission from Cakes: A collection of the very best baked treats by Marianne Hudson, published by New Holland, $39.99.

Baked Fudge With Rum Sauce
Serves 8 • Preparation 25 minutes • Cooking 60 minutes
INGREDIENTS
2 ¼ cups sugar
2/3 cup all-purpose (plain) flour
2/3 cup cocoa powder
5 eggs, well beaten
7 oz (200g) butter
2 teaspoons vanilla extract
1 cup pecans, coarsely chopped
SAUCE
1 egg yolk
½ cup confectioner's (icing) sugar, sifted
3 tablespoons light rum
1 cup heavy (double) cream, whipped
METHOD
Preheat oven to 360 degrees F (180 degrees C). Mix sugar, flour and cocoa. Add to beaten eggs and blend thoroughly. Melt butter and add vanilla. Thoroughly combine butter and cocoa mixtures. Add nuts.
Bake in individual custard cups in a pan of hot water for 45 minutes to 1 hour. The fudge should be firm, like custard.
For sauce, mix together egg yolk, sugar and rum. Fold this mixture into stiffly whipped cream. Serve on top of the slightly warm baked fudge.
** BOOK GIVEAWAY **
We have 1 copy of Cakes: A collection of the very best baked treats to give away.
To ENTER THE DRAW TO WIN A COPY simply post a comment below. Anything will do. You can just say hello, if you like. Or you could share your best cooking tip.
COMPETITION CLOSES ON 21 NOVEMBER, 2013 at 11.59PM.