Download our free weeknight dinner plan for 5 meals plus shopping list.
What's for dinner?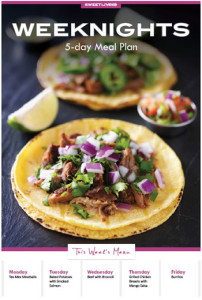 How about beef burritos, Tex-Mex meatballs, or grilled chicken breasts with mango salsa?
If you're overstretched or overbooked, often the last thing you want to do is think about dinner.
So we've made it easy for you. We have a full week's menu of tasty – and easy – weeknight meals, plus a shopping list for all the recipes included.
All YOU have to do is print it out and you're sorted. Easy!
You might also like our:
Make Life Easy