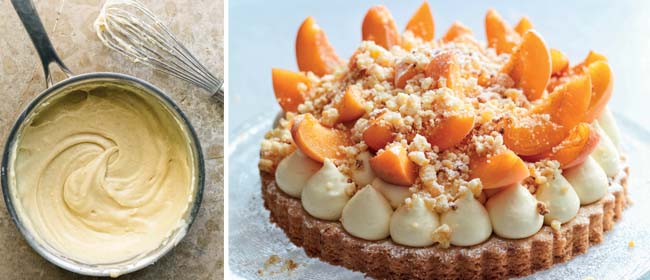 Want a recipe to impress? Try this delicious apricot tart (or, if you have a posh French accent, tarte croustillante aux abricots). It's a bit more challenging than the basic muffin or scone recipe, but it's definitely worth the effort. The recipe features in Will Torrent's new book, Pâtisserie at Home, and we have the step-by-step instructions for you, below. We're also giving away a copy of this fabulous book – see bottom of article.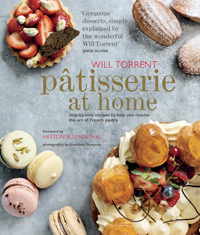 Torrent's fabulous new book, Pâtisserie at Home, "aims to take the fear factor out of French pâtisserie". It gives the reader the means to make to-die-for, mouthwatering pastries. With step-by-step photography showcasing key pastry techniques, and 80 beautifully illustrated treats, we guarantee you'll want to give these sumptuous-looking recipes a go.
Pâtisserie at Home is an exquisite book, and we're thrilled to feature one of Will Torrent's recipes, below.
Extracted with permission from Pâtisserie at Home by Will Torrent.
Photography by Jonathan Gregson.
$49.99
Published by: Ryland Peters & Small
Enquiries: Bookreps.co.nz

Tarte croustillante aux abricots
There are as many varieties of apricot tart in France as there are of the ubiquitous apple tart. In Normandy, for example, they bake the apricots with custard. I wanted more lightness and crunch so I use apricot compote, apricot crème diplomate, fresh apricot wedges and a sprinkling of crumble!
1 x quantity Pâte à Sablé Breton (see below)
1 x quantity Crème Diplomate (see below, made with apricot Crème Pâtissiere)
icing/confectioners' sugar, to dust
Apricot crumble
150 g/1 cup semi-dried apricots
70 g/5 tablespoons butter
100 g/¾ cup plain/all-purpose flour
100 g/1 cup ground almonds
grated zest of 1 lemon
Apricot compote
200 g/7 oz. apricots
2 teaspoons butter
50 g/¼ cup sugar
1½ tablespoons apricot liqueur or brandy
a big pinch of fresh thyme leaves
deep, 18-cm/7-in tart pan or springform cake pan
baking sheet, lined with greaseproof paper
piping bag fitted with a plain nozzle/tip
Serves 6–8
Make the Pâte à Sablé Breton the day before you want to bake the tart, following the instructions below. Refrigerate overnight, still between the sheets of paper.
The next day, preheat the oven to 170˚C (325˚F) Gas 3.
Roll the chilled dough out on a lightly floured surface until about 18 cm/7 inches in diameter. Loosely wrap the dough around the rolling pin and transfer it to the prepared tart pan. Unravel the dough into the pan. You just want to line the base of the pan, not the sides, so cut off any excess pastry with a small, sharp knife.
Bake in the preheated oven for 25–30 minutes or until golden and risen. The middle will sink slightly as it cools, which is what we want.
For the apricot crumble
Put all the ingredients in a food processor and blitz until it clumps together into a ball. Wrap the dough in clingfilm/plastic wrap and freeze for 1 hour or until frozen through.
For the apricot compote
Take half the apricots and finely chop them. Pit the remaining apricots, cut into wedges and reserve for later.
Heat and melt the butter in a frying pan, then fry the finely chopped apricots. Add the sugar and heat until the sugar has melted and the apricots have caramelised.
Remove the pan from the heat and carefully add the liqueur. Shake the pan a little over the heat and stand back slightly. The steam from the pan will ignite and the alcohol will burn off – this is perfectly normal. Just don't add too much otherwise you'll singe your eyebrows – I've seen it happen!
Add the thyme – it will give a nice colour and unexpected flavour. Once the apricots begin to break down and the liquid has reduced, transfer to a bowl and allow to cool slightly, then blitz in a food processor to make a chunky compote.
Preheat the oven to 180˚C (350˚F) Gas 4.
Take the frozen apricot crumble dough out of the freezer and coarsely grate it onto the prepared baking sheet. Bake in the preheated oven for 15 minutes. Give it a stir occasionally to stop it melting together into one big cookie. Allow to cool completely.
To serve, spoon the apricot compote into the naturally sunken base of the cooled tart case.
Fill the piping bag with Crème Diplomate and pipe bulbs in concentric circles between the compote filling and the edge of the tart case. Decorate with the reserved apricot wedges and sprinkle the crumble over the top. Finish with a dusting of icing/confectioners' sugar.
Pâte à sablé Breton
This is a pastry that works so well left on its own and stamped out to make crumbly, buttery biscuits. In the Brittany region of France, it is made into a whole, simple cake or individual biscuits, glazed with egg yolk and scored with a criss-cross pattern. The pastry also marries successfully with other components, such as in the Tarte Croustillante aux Abricots.
70 g/5 tablespoons butter, softened
60 g/5 tablespoons sugar
1½  egg yolks
100 g/¾ cup plain/ all-purpose flour
a pinch of baking powder
a pinch of salt
finely grated zest of 1 lemon
finely grated zest of 1 orange
several ovenproof cookie cutters plus a baking sheet lined with greaseproof paper, or a deep, 18-cm/7-in tart pan
Makes enough to line a deep, 18-cm/7-in tart pan.
Beat the butter and sugar together in a stand mixer or in a bowl with an electric whisk until pale – about 5 minutes.
With the whisk running, gradually add the egg yolks, mixing until fully incorporated.
Gently fold in the flour, baking powder, salt and citrus zest until fully incorporated. The dough will be very buttery and wet.
Bring the dough together into a ball with your hands. To roll it out, place it between 2 sheets of greaseproof paper and use a rolling pin to flatten the dough until about 2-cm/¾ inch thick. Refrigerate overnight, still between the sheets of paper.
The next day, preheat the oven to 180˚C (350˚F) Gas 4.
If you are making biscuits, stamp out rounds from the chilled dough with the cookie cutters. Transfer each round, still in the cookie cutter, onto the prepared baking sheet. You need to cook the biscuits inside the cutters because the high butter content makes them spread during baking.
Bake the biscuits in the preheated oven for 20 minutes or until they are wonderfully golden brown, coming away from the cutters and sinking ever so slightly in the middle.
Allow the biscuits to cool completely on the baking sheet and inside the cookie cutters.
Keep in an airtight container before using.
Crème pâtissière
This is without question the most luxurious cream on the planet! The basis of so many classic French pastries, this is rich, sweet, smooth and velvety – and simple to make too. My way of making it isn't strictly traditional but it does ensure a thick, stable crème. Once you've mastered the technique, you can experiment with flavourings to adapt it to a particular cake.
1 vanilla bean
500 ml/2 cups milk
100 g/½ raw cane sugar
4 egg yolks
3 tablespoons cornflour/cornstarch
3 tablespoons custard powder/vanilla pudding mix (or additional cornflour/cornstarch)
2 tablespoons butter
Makes about 750 g/1½ lbs.
Split the vanilla bean lengthwise using a small, sharp knife and scrape the seeds out into a large saucepan. Drop the bean in too and pour in the milk. Bring to the boil over low heat.
Meanwhile, in a mixing bowl, whisk the sugar, egg yolks, cornflour/cornstarch and custard powder together with a balloon whisk until smooth and creamy.
Pour half the boiled milk into the mixing bowl containing the egg mixture and whisk together. Now pour the contents of the bowl into the saucepan where the remaining milk is. Fish out the vanilla bean with a slotted spoon.
Over low heat, whisk the mixture until it thickens and starts to bubble.
After 5 minutes, the heat will have cooked the cornflour/cornstarch and custard powder and become thick and rich.
Finally, add the butter and whisk it in until melted to further enrich the crème and make it extra glossy.
Transfer the crème pâtissière to a bowl and immediately place a sheet of clingfilm/plastic wrap over the surface to prevent a skin from forming. Allow to cool completely before using.
VARIATIONS
Chocolate: replace the cornflour/cornstarch and custard powder with 3½ teaspoons cornflour/cornstarch, 3 tablespoons plain/all purpose flour and 3½ teaspoons cocoa powder. Follow the recipe as above, adding the cocoa powder at the same time as the cornflour/cornstarch. At the end, stir in 25 g/1 oz melted dark chocolate.
Mango and passionfruit: replace the milk with a mixture of mango and passionfruit purées, or a combined mango and passionfruit smoothie.
Praline: add 50 g/¼ cup praline paste (available online) to the milk.
Boozy: stir in 1 tablespoon rum or Grand Marnier at the end.
Apricot: first make an apricot purée. Put 225 g/1½ dried apricots, the juice of 2 lemons, 200 ml/¾ cup orange juice and 100 g/½ cup sugar in a saucepan over medium heat and bring to the boil. Lower the heat and simmer for 30 minutes. Allow to cool slightly, then transfer to a blender or food processor and process to a purée. Pass the purée through a sieve to make it extra smooth. To make the apricot crème pâtissière, replace half the milk with the same amount of apricot purée. Store any remaining purée in an airtight container in the fridge.
Crème diplomate
Sometimes crème pâtissière can be too thick or rich for a delicate dessert pastry, so this cream is perfect. It's crème pâtissière carefully mixed with lightly whipped cream to give a still luxurious, velvety cream but that little bit fluffier.
250 ml/1 cup whipping cream
250 ml/1 cup double/heavy cream
500 g/2 cups storebought crème pâtissière, or 1 x quantity Crème Pâtissière (as above)
Makes about 1 kg/2 ¼ lbs.
Put the whipping cream and double/heavy cream in a stand mixer or use a mixing bowl and an electric whisk. Beat until soft, billowing peaks form.
Be careful not to over-whip it otherwise it will become thick and grainy and it will split when mixed in with the crème pâtissière.
Gently fold the whipped cream, in stages, into the crème pâtissière until smooth and irresistible.
Refrigerate until ready to use (or eat straight from the bowl!).

** BOOK GIVEAWAY **

 

[CLOSED] – WINNER: Mina S
We have 1 copy of Pâtisserie at Home to give away.
To ENTER THE DRAW TO WIN A COPY simply post a comment below. Anything will do. You can just say hello, if you like. Or you could share your best baking tip.
COMPETITION CLOSES ON 10 OCTOBER, 2013 at 11.59PM.