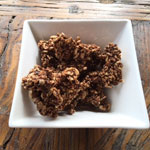 Want a low-GI (slow-burning), delicious treat? Try Fi Jamieson-Folland's gRAWnola – the raw version of the popular favourite.
Fi Jamieson-Folland makes a delicious raw cake for when you feel like indulging. Only this one's healthy.
Here's your healthy way to indulge in a worldwide, favourite dessert – and it's fast; just 10 minutes prep (plus soaking time the night before).