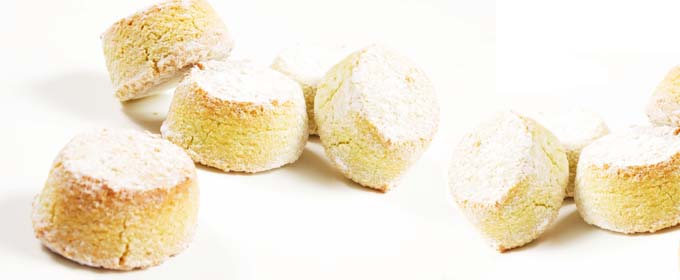 Sweet Living reader Yvette Lawless sent in this delicious recipe for marzipan cakes. "I had some marzipan left over from a previous baking session and found this fantastic recipe for miniature cakes. They're delicious!"
Marzipan Cakes
Ingredients:
Marzipan
100g butter
½ cup caster sugar
1 egg (medium)
1 ½  cup all-purpose flour
½ teaspoon baking powder
½  teaspoon bicarbonate of soda
Pinch salt
1 teaspoon mixed spice
2 egg whites, whisked
2 tablespoons milk
½ teaspoon vanilla essence
Icing (confectioner's) sugar
1. Preheat oven to 200degC.
2. Roll marzipan into walnut-sized balls and set aside.
3. Cream butter and sugar in food processor until light and fluffy then transfer to a large mixing bowl.
4. In a small bowl whisk the egg, and set aside.
5. Add flour, baking powder, bicarbonate of soda, salt, mixed spice, whisked egg whites and milk to creamed butter and sugar, and mix well. Add the vanilla and whisked whole egg, and stir until combined.
6. Place a marzipan ball into a muffin pan cup, then spoon over cake batter until cup is half to three-quarters full. Repeat for other muffin cups.
7. Bake in oven for 15-20 minutes. Cool then dust with icing sugar.
Send us your tips and recipes.
Spice-scented carrot cake with crumble topping.