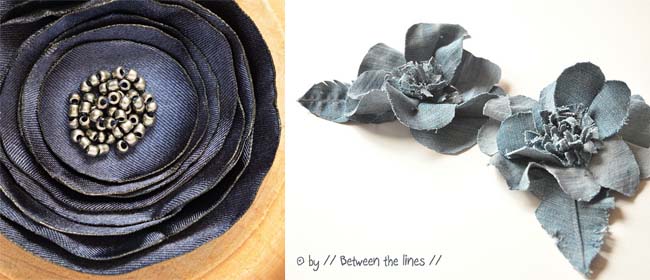 Don't throw away your old jeans. Use the fabric to make floral brooches. Indigo, stonewashed, brushed or printed denim – they're all ideal for textile jewellery.
Our own denim flower brooch (top left) uses a stiff dark denim, though it would look equally fine with a lighter coloured fabric. Some blue lace on the outer layer would also look great.
To make it, cut 8 circles of varying sizes. Using your thumbs and forefingers, pull on the outer edges of the petals until they curve upwards. You can use a fabric stiffener once the petals have curved upwards if you wish to make the petals more sturdy.
Stitch metallic seed beads onto the centre of the smallest petal using blue thread that matches your denim. Then use a fabric glue to glue each petal in place. Glue a brooch pin to the back of the flower.
The gorgeous brooch top right was created by Between the Lines. Click here to see the tutorial.