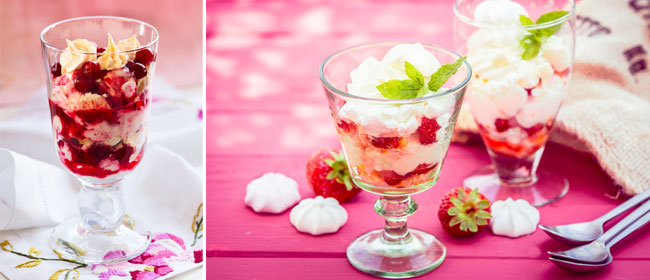 Need a dessert in a hurry? Here's editor Jane Wrigglesworth's go-to sweet, which takes just 5 minutes to prepare.
I don't always eat dessert, but occasionally I feel like something sweet to finish my meal. This is my go-to dessert; it literally takes just minutes to whip up.
I keep small meringues and blackcurrant cordial in the pantry, frozen berries in the freezer (or use fresh berries in season), and I always have yoghurt in the fridge.
What's your go-to dessert? Let us know in the comments below.
Ingredients
Fresh or frozen berries (my favourite are raspberries)
Icing (confectioner's) sugar
Blackcurrant cordial (I use Barker's Lite Blackcurrant Syrup, which is sweetened with stevia)
Greek yoghurt
Meringue, crumbled
1. Place fruit in bottom of (individual) serving bowls. If frozen, thaw first.
2. Sprinkle over some icing sugar, then drizzle with blackcurrant cordial (a couple of teaspoons per bowl).
3. Top with yoghurt, then crumbled meringue. You can mix it all together or add layers if you wish.
Serve!