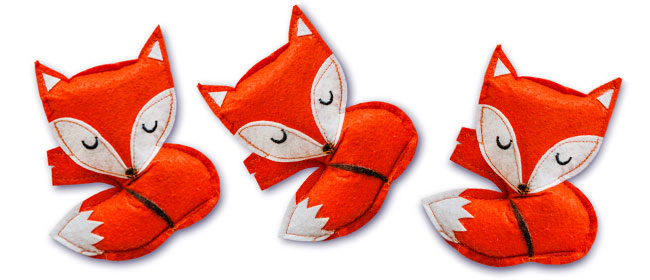 This cute little critter is made out of felt and can be either machine or hand-sewn.
You can whip up this fun brooch or badge in a couple of hours – or encourage your children to try their own hand at it. It needs only basic stitching, and a brooch pin for the back.
You need:
Orange, white and black felt
Black embroidery thread (or black sewing thread)
Orange sewing thread
Stuffing
Craft or fabric glue
Method:
1. Download your free PDF template here, print it, then cut out the pattern pieces. Use the pattern to cut each felt piece (you need 2 x body pieces, 2 x head pieces, 2 x cheeks, 1 tail and 2 ears).
2. Using the orange sewing thread, sew the tail and cheek pieces onto the front side of the body and face. Glue on the white ear pieces.
3. Place the 2 body pieces together and sew around most of it, leaving an opening at the top (about where the head will go) to allow for stuffing. Stuff the body and tail end slightly (leave the feet without stuffing), then hand-sew the opening closed.
4. Using your black embroidery thread, hand-stitch eyes onto the face (or machine stitch with sewing thread).
5. Cut a small circle from the black felt for the nose and glue it on. Cut a thin strip for the tail and glue it on.
6. Place the 2 head pieces together and pin to the body in the position shown. Using the orange sewing thread, stitch around the head and onto the body, leaving an opening at the top of the head for stuffing. Stuff slightly, then hand-stitch the opening closed.
7. Stitch or glue the brooch pin to the back.