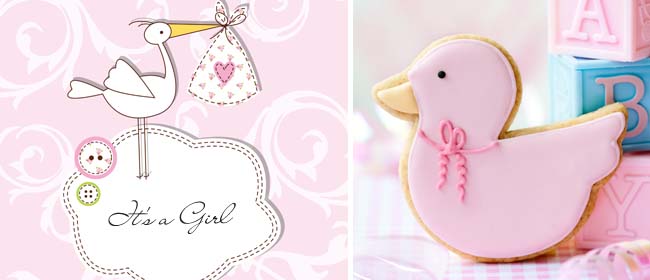 Know of a cute little bundle who's recently said hello to the world? Here's a card for you to download and print for free. Obviously, this card is for a girl. Next week, we'll have a card for a baby boy for you to download too.
For your FREE baby girl card, CLICK HERE to download the PDF, then simply print it onto white card stock.
Now, we think the perfect accompanying gift is cute little cookies. And those featured here are so easy to make. All you need is a cookie cutter, red and yellow food colouring for the icing, and a piping bag to pipe on the bow. And the cookie mix, of course.
We used a basic cookie dough recipe (you'll find one in any recipe book, or online), then applied the icing.
For the pink body, we piped an outline around the edge of the cookie first, to keep the icing from flowing over the sides, then filled in the centre and smoothed it with a knife.
Once that was dry, we applied the embellishments.