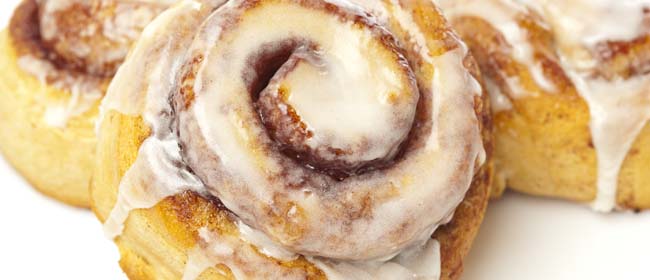 Yolanda Bonfrer's recipe for cinnabons is very much in demand – and we can attest to that. We've had several requests for it. We can attest to their deliciousness too!
Here it is – my fabulous cinnabon recipe! My 'go to' dish when called upon to bring a plate, contribute to cake day or when wanting to impress the coffee group girls. It's easy to make, so give it a go. Serve it warm.
Cinnabons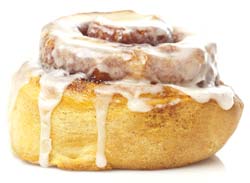 Ingredients:
Dough Mixture
2 ½ tsp dry yeast
600g (21 oz) plain flour
110g (4 oz) caster sugar
1 tsp salt
100g (3.5 oz) margarine
2 eggs
1 cup warm milk
Filling
2 ½ tablespoons cinnamon
1 cup brown sugar
½ cup margarine
Icing
4 tablespoons margarine
¾ cup icing sugar
30g (1 oz) cream cheese
¼ tsp vanilla essence
To make:

1. Combine all 'dough' ingredients into bread maker. Follow your own bread maker instructions with regards to the order in which the ingredients need to go, and choose the dough setting. For those who do not possess a bread maker (why not?!) you will have to contend with doing it the traditional way, ie by hand.
2. When ready to make your cinnabons, preheat your oven to 180 degrees C (350 degrees F). Lightly grease a rectangular baking dish – around 25cm x 20cm (9 inches x 7.5 inches) or a circular one of similar size.
3. Roll dough into a rectangular shape on a floured surface. The dough should roll out to approx. 60cm x 40cm ( 23 inches x 15 inches).
4. Spread margarine over surface and then sprinkle combined cinnamon and brown sugar mixture evenly over the top. Leave an edge of approximately 1.5cm (½ inch).
5. Working carefully, starting from the long edge of the rectangle, roll the dough into a long sausage-like shape. Cut dough into even pieces and place into lightly greased baking tray.
6. Bake for approx. 15 minutes or until golden brown.
To make the icing:

Combine all the ingredients in a small bowl. Spread over the cinnabons while they are still warm and enjoy!
Tip: It is best to remove the cinnabons from the baking dish before they cool or they will stick to the bottom of the dish. On that note, a few paper towels or serviettes will come in handy, as these are deliciously gooey to eat.