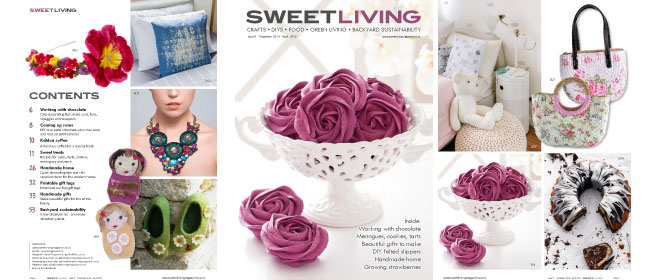 It's here! The latest issue of Sweet Living magazine, Issue 9, has just hit the cybershelves. And it's FREE for you to view. As usual, it's full of crafty DIYs, delicious baking, home decorating and hints on backyard sustainability.
Click on the link below to check it out.  Happy reading!
PLEASE WAIT A MOMENT WHILE THE ISSUE LOADS BELOW.
If you're having trouble viewing on an iPad, click here.
In this issue:
Coming up roses: Make your own rose-smelling carpet freshener, rose soap and rose-petal chocolate
Sweet treats: cakes, cookies, tarts and meringues (and more)
Printable gift tags: download for free
DIY felted slippers: step-by-step tutorial
Handmade gifts: tutorials to make a bling necklace, felt flowers, decoupage bags, cute finger puppets, knitted and lacy scarves, a felt needle book, a painted t-shirt, paper crowns, and a harvest apron
The handmade home: quick decorating tips and chic recycled decor
Backyard sustainability: growing strawberries