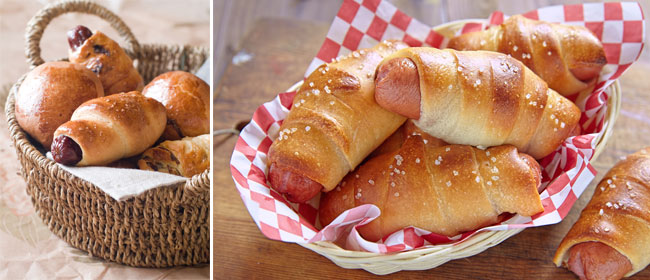 This is the perfect party food or snack for pint-sized (and adult-sized) mouths.

Soak this the night before, ready to make in the morning.
Makes 24.
Ingredients
3 cups whole wheat flour
Juice of 1 lemon
½ cup melted butter  (about 220g/8oz butter)
½ cup honey
¼ cup water
3 teaspoons yeast
2 teaspoons salt
1 egg
24 cocktail sausages (mini hotdogs)
Sea salt for sprinkling
1. Mix the flour, lemon juice, butter, honey and water together. Let this mixture sit overnight, covered with a damp towel.
2. The next day, mix in the yeast, salt and egg (no need to proof the yeast). Knead the dough for about 10 minutes until smooth and elastic. Set it in a warm place to rise for about an hour, or until doubled in size.
3. Punch down the dough and separate into 2 pieces. Roll each piece out into a large circle and cut into 12 pieces (they will be triangles). Roll each piece around a cocktail sausage (or, simply roll it up if you're using it for dinner rolls).
4. Set them on an ungreased tray to rise for another hour. Continue this process until all the dough has been used.
5. Preheat the oven to 200 deg C (400 deg F). Sprinkle dough with sea salt then bake the pigs in blankets for 10–15 minutes until golden brown.