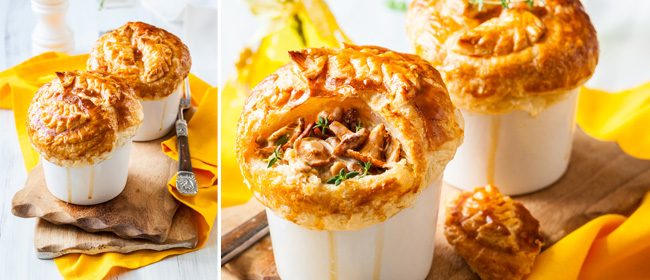 These delicious pies take minutes to prepare and are just the thing for 'meatless Mondays'.
This is a nice and quick recipe, but for an even faster recipe, use a tin of mushroom soup and fresh thyme, in place of the ingredients below.
Ingredients
50g butter
2 medium-sized leeks, cleaned and thinly sliced, white parts only
2 garlic cloves, finely chopped
400g mixed mushrooms, sliced
1 tablespoon honey
30ml fresh thyme leaves
50ml sweet white wine
125ml fresh cream
Salt and freshly ground black pepper, to taste
400g defrosted puff pastry
1 egg, beaten
1. Preheat the oven to 200 degrees C (400 degrees F).
2. Heat half the butter in a frypan, add the leeks and sauté until soft.
3. Add the garlic, mushrooms, honey, thyme and remaining butter and sauté for 2-3 minutes.
4. Add the wine and simmer for 5 minutes.
5. Add the cream, salt and pepper, and remove from the heat. Pour into an oven-proof dish, or individual dishes, and let cool slightly.
6. Place the pastry on top and decorate as desired. Brush with the egg and bake until golden brown, 15-20 minutes.