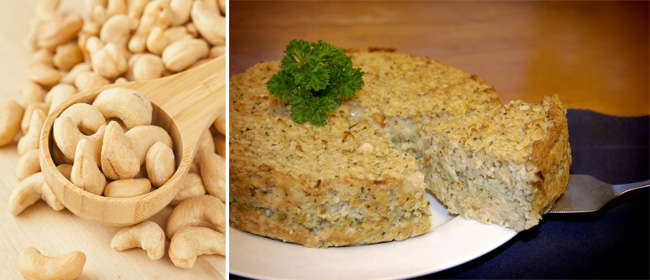 It might not be the prettiest looking dish, but remember, looks can deceive. This nutty loaf is divine.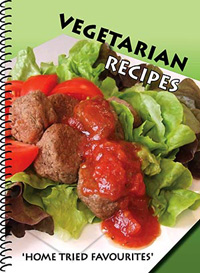 This delicious recipe features in the New Zealand Vegetarian Society's cookbook, Home Tried Favourites. You can alter the ingredients to suit the types of vegetables that you or your family love, or what's in season.
If you want more delicious recipes, nutritional information, or more information about becoming vegetarian, head to the New Zealand Vegetarian Society's website.

Layered cashew loaf
Serves 6
STEP 1
1 tablespoon margarine/butter/oil
1 large onion, diced
225g cashew nut pieces
100g brown bread slices, non-grainy
Garlic
200ml water or vegetable stock
½ teaspoon salt
1 teaspoon basil
½ teaspoon ground nutmeg
1 tablespoon lemon juice
1. Line a loaf tin with greaseproof paper, grease it and put aside.
2. Melt margarine in saucepan, add the onion and sauté for five minutes until tender but not browned. Remove from heat.
3. Put the cashew nuts, bread and garlic into a food processor and process until medium-fine, then transfer to a bowl so it does not over process.
4. Add the onion mixture to the bowl, and the remaining ingredients of water, salt, basil, nutmeg and lemon juice. Stir well using a spoon and put aside.
STEP 2
Stuffing
1 tablespoon margarine
1 small onion, very finely chopped
100g white bread slices, non-grainy
½ teaspoon thyme
½ teaspoon marjoram
5 tablespoons fresh parsley, chopped
½ tablespoon water
1. Mix all the stuffing ingredients together in a food processor.
2. Put half the cashew nut mixture into the prepared tin, top with all of the stuffing, then spoon the rest of the cashew nut mixture on top.
3. Bake at 200 degrees C (400 degrees F) for about 30 minutes or until firm and lightly browned. Should it become too brown before time, cover with foil.
STEP 3
Garnishing upon serving
Sprigs of parsley
Lemon slices or wedges
1. Remove from oven and allow to stand for five minutes.
2. Turn out carefully onto the serving dish; remove the paper from the top of the loaf.
3. Decorate with sprigs of parsley and lemon slices or wedges.