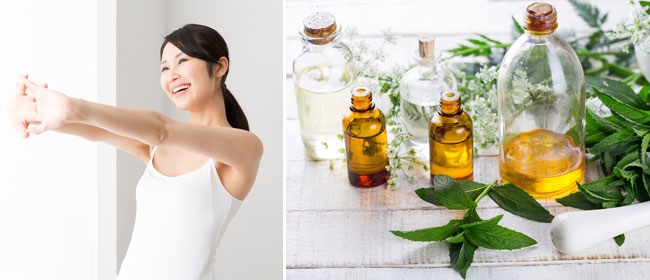 Clinical aromatherapist Melanie Harrison uses essential oils in place of coffee for her get-up-and-go.
Do you have some mornings where you just can't get going?
It feels like your brain is still in sleep mode and surrounded by a HUGE cloud of fluffy cotton wool. You try to clear your head so you can focus on all the tasks and decisions that lay ahead of you. Have you had times when your boss is asking a question and you're struggling to recall what happened five minutes ago let alone at the meeting last week? Or you have an important test or exam that you need to focus on and it feels like everything you've learnt has vanished and you're struggling to recall it.
HELP!!!
You know you shouldn't have another cup of coffee. And you know you really should cut back, but coffee seems to be the only thing that truly gets you going.
Yep, I have DEFINITELY been there. BUT…
I've since discovered a way to 'get going' without needing a caffeine fix. There IS an alternative to coffee!
Certain essential oils have amazing and powerful effects on our brain and memory.  These essential oils act as a stimulant to boost your senses in the morning, without any of the crash you can experience with caffeine or sugar.
OK, great…. but what are essential oils?
Essential oils are extracts (aka essences) from the leaves, roots, stems, flowers and seeds of various plants. They are made up of numerous different organic molecules and a large number of elements such as alcohols, esters, hydrocarbons, aldehydes, ketones, phenols and acids. Essences of aromatic plants have been prized for centuries for their health-giving properties.
So let me introduce you to nature's essential oils that are your 'go to' for focus and concentration:
ROSEMARY


Strengthening, restorative, centring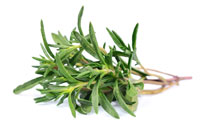 One of the best around and known as a symbol of remembrance. Rosemary is an excellent brain stimulant and great for memory, concentration, study, fatigue and headaches. It is highly stimulating and very invigorating if you're experiencing mental weakness and exhaustion.
A safety note: Rosemary essential oil is best avoided if pregnant, epileptic or you suffer from high blood pressure.
PEPPERMINT




Awakening, clarifying, stimulating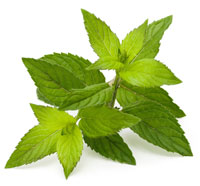 Whoa… this definitely packs a punch! Peppermint essential oil jolts you right back to reality as its scent is piercingly sharp and extremely effective at stimulating your brain and clearing your head. It is helpful when you're unable to concentrate or if you have mental fatigue. It's perfect to have in your burner when studying or to sniff directly from the bottle when you need help waking up.
A safety note: Because peppermint essential oil is so good at what it does, it's best not to use before you go to bed as it may keep you awake. It's also advised not to use if pregnant.
LEMON
Stimulating, purifying, refreshing
Lemon essential oil is a clean, fresh and lively scent that encourages clear thinking (yesss!). It is very effective at clearing the mind and helps to overcome mental fatigue. It's another goodie to have in your burner when studying or working for long periods at your computer.
A safety note: Don't apply a blend that contains lemon essential oil to your skin if you're going to be outside; it's phototoxic and will make you more sensitive to the sun's rays.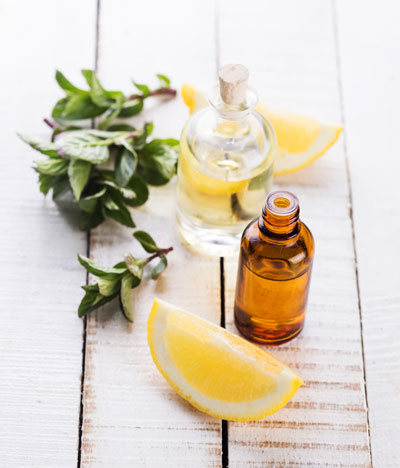 LEMONGRASS
Refreshing, energising, stimulating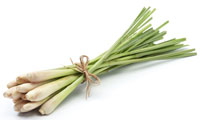 Lemongrass is beneficial for people who have trouble starting in the morning. It is helpful for mental fatigue and loss of concentration and is ideal to use at home or work, or wherever clear, fresh thinking and concentration is needed (umm, that's probably most days). Its scent is also very uplifting and reviving. I LOVE lemongrass as it always reminds me of warm sunny days.
BASIL
Uplifting, clarifying, awakening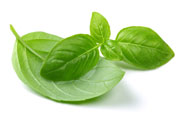 Basil essential oil is one of the "finest remedies" for the brain and cephalic, according to noted aromatherapist Salvatore Battaglia. It is known to clear the head, relieve intellectual fatigue and give the mind strength and clarity. Basil essential oil creates alertness and encourages better concentration. It is also excellent at relieving headaches.
A safety note: Do not use basil essential oil during pregnancy or on children under 10 years.
THYME (Thymus vulgaris)
Invigorating, assisting, powerful
Thyme essential oil is a brain fortifier and nerve tonic. It is helpful in relieving low spirits and mental blockages and is excellent to have on hand while studying. It's also helpful in relieving headaches and stress-related conditions.
A safety note: Do not use thyme essential oil during pregnancy. It is also best avoided if you suffer from high blood pressure.
HOW TO USE ESSENTIAL OILS
Great! But how do you use these essential oils to help get your focus back?
Even just a delicate sniff directly from a bottle of one of the above essential oils can immediately awaken you into action. You will feel the brain fog lifting as your mind becomes clearer, and your eyes will actually look fully awake and open. Yep, it is that instant!
Essential oil burner or diffuser
Place up to 4-10 drops (depending on room size) of any of the above essential oils in your burner with water, or a diffuser. It's best to diffuse when you first get up in the morning or to have it beside you while you're working or studying.
Water bowl
You don't have an essential oil burner or diffuser? No problem! Just fill a glass bowl of very hot, near-boiling water and add 4-10 drops of your chosen essential oils. Allow 5-10 minutes for them to permeate. Place the bowl nearby while working or studying.
Shower
To help wake you up in the morning, place up to 10 drops of your chosen essential oil onto the shower floor. Make sure to place the drops in an area where the water can reach, but not directly under the water or the oils will vaporise too quickly.
Sniff directly from the bottle
The bottle can be secured and placed in your bag or pocket to use when you feel the need. Or you can place 1 drop on a tissue to carry around with you and smell intermittently whenever you need it.
It's also good to keep in mind that there are a number of dietary and lifestyle changes which can make a big difference in your ability to concentrate and retain information. Nutrition, proper sleep, exercise and training the mind to focus (meditation is great!) all play a part in nurturing attentiveness. And using essential oils for this purpose can definitely play a positive and beneficial role in helping you feel focused and on task.
SPECIAL BLEND
Would you love to have a mix of essential oils as a 'go to' for your 'get up and go'?
I've put together an invigorating mix of essential oils that will assist with study, focus and concentration as well as help you to 'get up and get going' whenever you need to.
The Quiescent Study + Go synergy  is made up of the invigorating rosemary, peppermint, lemon, basil and Thyme vulgaris essential oils. A 5ml bottle is only $18.50.
If you would like a bottle of the Quiescent Study + Go synergy for yourself, or you have a teenager who is busy preparing for exams, then please do not hesitate to contact me. Email me here. I can arrange a time for you to collect the synergy from me or I'm happy to pop it in the post to you ($6 postage charge).
If you'd like to know more about what I do. please don't be shy. I'd love to hear from you.
Mel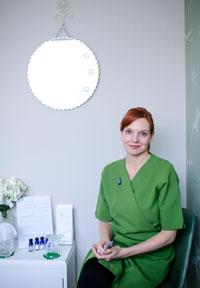 Melanie Harrison is trained in clinical aromatherapy and holistic massage, and runs her own business, Quiescent. She offers treatments that bring a sense of calm and balance to the body – both physically and emotionally. She also creates pure plant oil treatments that can be used at home to support this. Melanie is devoted to raising the profile and awareness of clinical aromatherapy and massage as valuable time-honoured methods of therapy which can be used to enhance and complement other methods of treatments
Visit Melanie's website, Quiescent here