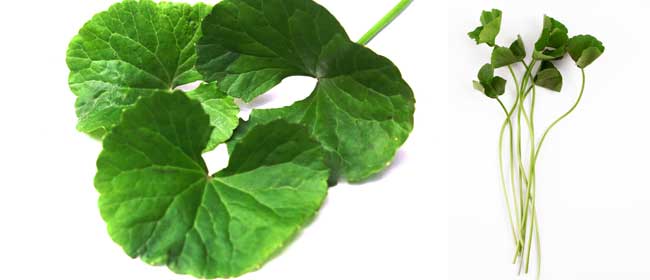 Known as 'the brain herb', studies have shown that gotu kola may boost memory, increase concentration and improve learning capabilities.
By Jane Wrigglesworth
It may be diminutive, but gotu kola (Centella asiatica) packs a mighty herbal punch. You can reel off an impressive list of credentials, a sort of superhero of the plant world. It's adaptogenic, antispasmodic, antibacterial, antifungal, anti-inflammatory, antiviral, an adrenal strengthener, a blood purifier, a nervine, a sedative, a tonic – the list goes on – and its kidney-shaped leaves contain a cocktail of vitamins and minerals. They hold vitamins A, B, C, D and lots of vitamin K, as well calcium, chromium, magnesium, manganese, phosphorus, potassium, selenium, silica and zinc. In addition, gotu kola contains compounds that help heal wounds.
"The asiaticoside constituent in gotu kola has the action of speeding the healing of wounds and accelerating the repair of connective tissue, ligaments, cartilage, tendons, bone fractures, and also repair of veins and arteries," said the late Isabell Shipard, who was one of Australia's most knowledgeable and sought-after authorities on herbs.
But the herb is probably best known for its ability to improve memory and cognitive functioning.
"It is one of the most important, rejuvenating herbs in Ayurvedic medicine," said Isabell, "particularly valued for revitalising nerve and brain cells, promoting calmness and clarity, and helping poor memory and lack of concentration."
Research supports views that the herb boosts memory, increases concentration, and improves learning capabilities. In one study reported in the Journal of Ethnopharmacology, gotu kola produced stronger cognitive function and reduced mood disorders in elderly patients. In another study, the concentration levels of 30 developmentally challenged children significantly increased after taking gotu kola extracts for 12 weeks.
Isabell, in her book How Can I Use Herbs In My Daily Life, agreed that gotu kola is a valued brain food improving intelligence and reflexes. "It has been a herb students have used for renewing mental alertness, clarity and energy levels, without the jitteriness some people may experience with coffee," she wrote.
But the benefits don't end there. Gotu kola is useful for skin disorders such as psoriasis and eczema as well as sunburn, applied as a cream or poultice. As well, it's used to reduce high blood pressure and high serum cholesterol levels.
Numerous studies show that it enhances circulation of the lower limbs and reduces swelling. It is often used to treat varicose veins and chronic venous insufficiency, a condition where blood pools in the veins and swelling occurs.
Arthritis is another condition that benefits from this versatile herb.
"Many years ago, I was teaching a herb course at the TAFE College," wrote Isabell. "In the first week, I took into class a box of gotu kola plants to ask if there might be someone in the group suffering with arthritis who would like to use it daily and report back their experiences at the end of the six weeks. Immediately, a lady indicated she would like to trial the herb. At the end of the course, she excitedly shared with everyone in the class that she did not feel fatigue like she used to at the end of the day and the arthritic pain was gone. For years she had not been able to take the rings off her fingers because of swollen joints, but after taking gotu kola for several weeks, was able to remove her rings again."
Everyone can benefit by taking gotu kola. "Start with eating 2-3 leaves 3cm in diameter (if leaves are smaller, more leaves need to be taken to give the same amount). Then, if desired, after several weeks increase to 5-6 leaves. If a person has severe pain and arthritis, it may be necessary to slowly increase intake to 10-12 leaves daily."
While some texts suggest taking gotu kola at night to promote a restful sleep, Isabell suggested consuming the leaves early in the day. "Don't eat these in the evening, as people who have tried this have said they have experienced a boost of energy and could not sleep. I chop the leaves and eat together with other herbs, over my muesli for breakfast."
Cautions
However, there are some cautions to note. Women who are pregnant, who are trying to get pregnant or who are breast-feeding should not use gotu kola. It should also not be used by children and teenagers. It may also interact with some medications, including medications for diabetes, cholesterol-lowering drugs, diuretics, sedatives and drugs that affect the liver, so it's best used under the guidance of a registered herbalist – or consult your doctor first.
Cultivation
Gotu kola is a creeping perennial that grows in a similar fashion to strawberries, forming small plantlets that root where they touch the ground. It thrives in subtropical areas, growing wild in Sri Lanka, China, India, Africa, Australia and the United States. In these countries it typically grows in swampy areas, alongside streams and pond margins.
In the garden, dig in compost to enhance moisture retention. Plants can be grown in large pots too, but make sure you water well. Bring pots indoors over winter in frosty areas. Can be grown in sun or light shade.
Available from the herb section at garden retailers.
Want more? Check out Jane's online herb workshop.