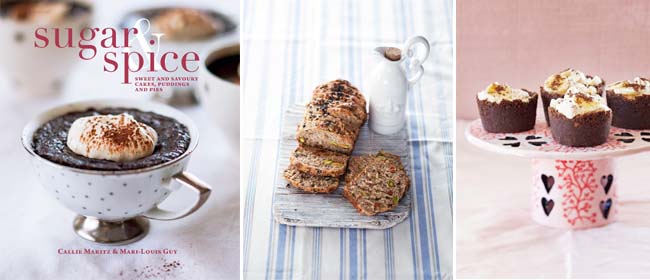 The cover picture alone is enough to get the juices flowing, but from page 1 you'll be hooked. With more than 100 recipes, both sweet and savoury, Sugar & Spice is a real treat for the home baker. The book includes breakfast ideas, pastries, cookies, cakes, pies and tarts, and deliciously healthy bread (see recipe printed on next pages). Yum! We love this book. And lucky for you, we have a copy to give away (see below).
Sugar & Spice
Sweet and savoury cakes, puddings and pies
Callie Maritz & Mari-Louis Guy
RRP $45.00; Hardback; New Holland

GIVEAWAY!!

We have 1 copy of Sugar & Spice to give away. TO GO INTO THE DRAW TO WIN A COPY, all you have to do is post a comment below. Anything will do. You can just say hello, if you like. Though we'd love to know what your emergency baking recipe is for soon-to-arrive, or unexpected, guests. For us, it's the Anzac biscuits from Edmond's Cookery book. It's very quick to make and always a winner.
COMPETITION CLOSED
WINNER: Ruth Pearce
For DELICIOUS RECIPES from the book, including Sticky Banoffee Pie, Lemon Meringue Cupcakes, and Healthy Brown Bread, click on PAGE 2 below the sharing icons.
Related posts: